Mellish Family Vineyards Bakenkop Syrah 2020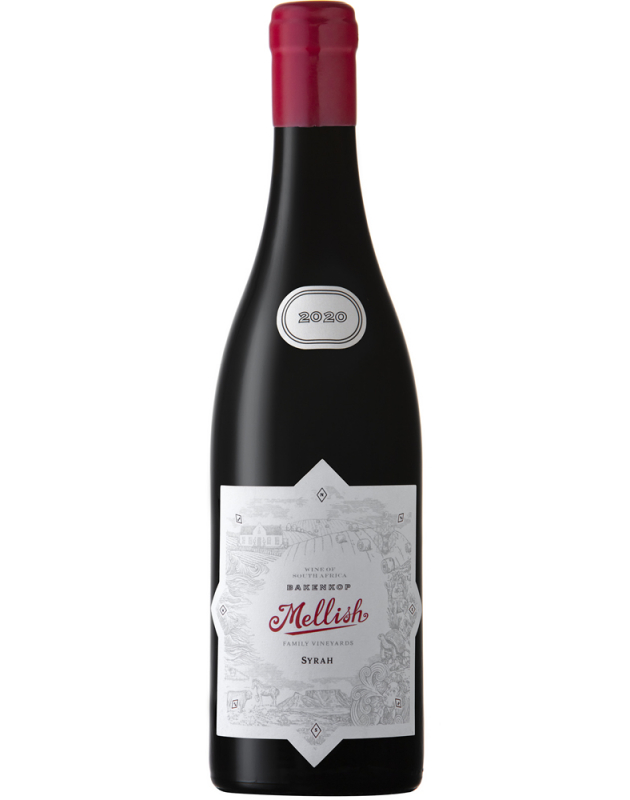 Mellish Family Vineyards Bakenkop Syrah 2020
On the nose some perfume, violets, white pepper, blackberry, redcurrant and plum with subtle oak notes of spice and smoke. The palate has a vibrancy and liveliness to compliment the aromas and juicy fruit. The tannin gives good structure and some grip. The wine is medium bodied with a mineral texture and a dry, saline finish.
Technical Analysis
alc
13.2
rs
2.0
pH
3.5
ta
6.0
Wine Information
Accolades
Brand Group
Mellish Family Vineyards
Other
From a vineyard planted in 2003 on the lower south-facing slopes of Bakenkop hill on Welbeloond Farm. The vineyard has ancient, stony, shale soils and sits 80 m above sea-level and 9 Km east of the Atlantic
Ocean. Harvest yields were 5 tons/Ha. The vineyard has been farmed organically since June 2015, but not yet certified.

Picked by hand into crates, early in the morning. 30% of the grapes were left as whole-bunch with the remainder destemmed and transferred to a two ton open fermentation vessel. The juice began spontaneous fermentation from ambient yeasts after three days of soaking. During fermentation the wine was punched down three times daily. Once dry the wine was pressed and then matured in 225 litre, seasoned, French oak barrels for 9 months before bottling.

W.O. Durbanville, Cape Town
Production: 1047 bottles
Winemaker
Andrew Mellish
Variety
Shiraz
BlendPercent
100% Syrah
FoodSuggest
Pepper-crusted fillet steak with brandy cream sauce.
Ageing
8 to 10 years.
Range:

Mellish Family Vineyards